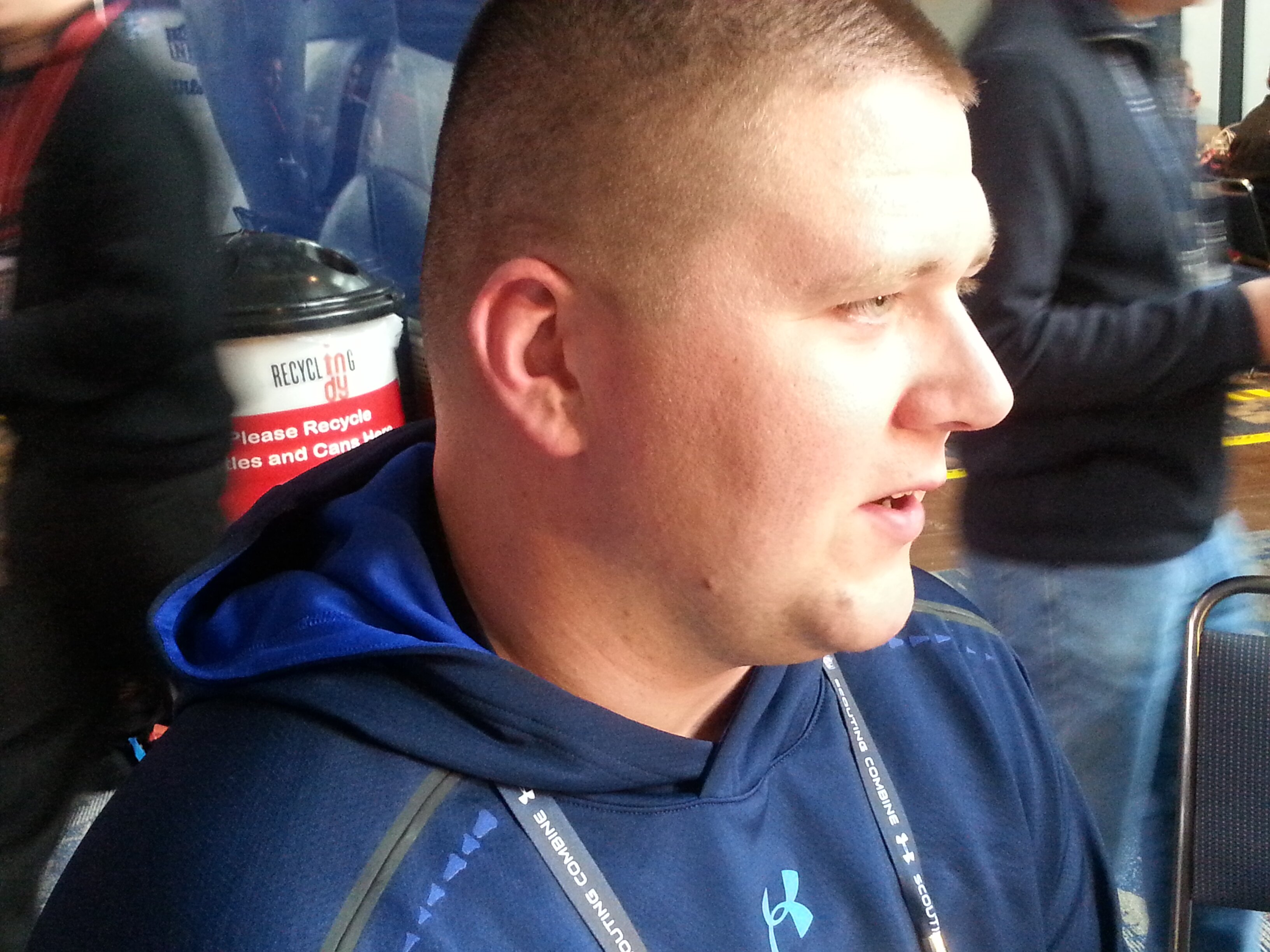 INDIANAPOLIS – B.J. Finney grew up in Smallville, Kansas. From there, he played football in the Little Apple. Now, he'd like to take his skills to a metropolis like the Big Apple.
"It's been just one big bus ride for me," said Finney, the former Kansas State center who is actually from Andale, Kansas, which has a population of 928. "I put in the hard work, put in the time until I moved. Small town Kansas, we work hard and it just showed. I wanted to play. I was going to do anything possible to play at K-State. I had 52 starts and now I'm ready to try and make that jump to the next level. And again, I'm going to do whatever I can to play."
Finney walked on at Kansas State before turning into one of the nation's most reliable centers.
"Putting in the hard work, being a four-year starter, being committed, dedicated to the cause speaks for itself," the 6-foot-3, 318-pound Finney said Wednesday at Lucas Oil Stadium.
Finney played for legendary coach Bill Snyder in Manhattan, Kansas. He said Snyder, who was inducted into the College Football Hall of Fame last month, pushed him to improve every year. Finney had a drive to, not only earn a scholarship, but also prove he deserved to keep it.
"You don't stay the same, a player never stays the same no matter how much people try and tell you," Finney said. "Coach Snyder always said don't take things for granted. If you take a performance for granted, then obviously you're not going to be here.
"Not only Coach Snyder, but his coaching staff. I couldn't imagine anybody pushing me harder. They expected more from me in a college program."
While he was a center for the Wildcats, Finney said NFL teams are projecting him at guard. He knows he's not athletic enough to play tackle and is an interior lineman. At the combine, he ran for 40-yard dash in 5.25 seconds, did a disappointing 20 bench press reps of 225 pounds and had a 24-inch vertical.
Finney has spoken with former K-State players Jordy Nelson and Cornelius Lucas. Nelson, a Pro Bowl receiver with the Green Bay Packers, told Finney not to get overwhelmed at the combine and to just be himself. Lucas, an offensive lineman in Detroit, just speaks with Finney about their respective families.
"The last thing we want to talk about is football," Finney said. "We all know we can talk about it for days, but we want to figure out how we're doing personally."
As he came into college as a guy fighting for a spot, only to earn a starting job, Finney hopes to do the same in the NFL.
"I'm going to work extremely hard to get myself in that situation," said Finney, who best physical attribute may be the way the former high school wrestler uses his hands. "But there's some things you can't see that are going to happen."
He said one of his biggest challenges in college was being thrust into a leadership role when he was elected as a team captain before his sophomore year. Longtime NFL.com draft analyst Gil Brandt believes Finney could start as a rookie.
"I had to prove to them there's a reason I was captain and we eventually got it going," Finney said. "I don't like sitting on the sideline. I'm just going to put my best foot forward and whatever comes my way, comes my way."
If he does make it in the NFL, when he returns home, he doesn't want the superhero treatment.
"I'm just another guy," he said, "and I want to be treated as such."