While former Ohio State defensive end Noah Spence was probably the best player all week in Mobile, he wasn't the only one with an impressive week at the Senior Bowl.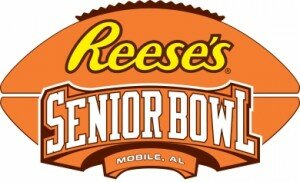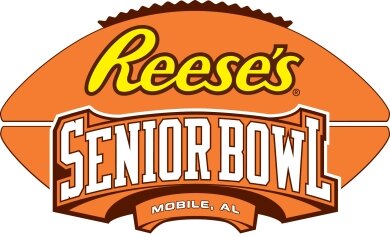 North Dakota State quarterback Carson Wentz proved to most that he is the real deal and just might be the first quarterback selected in the 2016 NFL Draft.
For the first time ever, the Senior Bowl had eight quarterbacks in the game as opposed to the usual six. Wentz was easily the best of the bunch in Mobile.
One former quarterback, Ohio State's Braxton Miller, also shined as a receiver. In addition to the top names, there were several small-school players who showed well.
Defensive line is the deepest position group in this year's NFL Draft class and many of the top prospects were at the Senior Bowl. The Jacksonville Jaguars coaching staff led the South team to a 27-16 win over the North team, coached by Jason Garrett's Dallas Cowboys staff.
Not everybody had a good week and, perhaps the most disappointing player in Mobile was East Carolina tight end Bryce Williams.
OFFENSE
Jerell Adams, TE, South Carolina – 6-5, 244 – Adams is a former basketball player and excellent athlete with good balance and agility. He blocked better than expected at the Senior Bowl and has a big upside at the next level. He's a solid route runner, but stiff in his breaks. He does understand where to find holes in a zone. He catches the ball well, but is also very good picking up yards after the catch. Adams is on the lean side and probably needs to get stronger to be a complete tight end at the next level.
Vadal Alexander, OT, LSU – 6-6, 329 – Alexander is a solid pass blocker with good footwork and balance with a nice base who uses hands well. He's lost 30 pounds since his freshman year – and was a four-year starter at both right and left tackle – but remains a massive man. While his footwork is solid, he doesn't have quick feet and struggles with edge rushers in space.
Brandon Allen, QB, Arkansas – 6-1, 212 – Allen doesn't really have the athleticism to make up for a lack of ideal size for the position. He does have a strong arm and can throw accurate darts with some zip. But he tends to rush his throws under pressure. When given time, he's a smart player who understands how to go through his progressions. He threw 50 touchdowns and 13 interceptions over the last two years while throwing for 5,725 yards. But he's got small hands and his movement is stiff when trying to turn to evade rushers.
Jack Allen, C, Michigan State – 6-2, 296 – A first-team All-American, Allen is a smart player who uses his hands extremely well. He's tough, tenacious and versatile enough to play either guard position. Allen was a four-year starter and is a pretty polished lineman. He likes to play with aggression, but that sometimes causes him to fall off blocks. He understands leverage and his intelligence makes up for a lack of ideal size or athleticism at the position.
Geronimo Allison, WR, Illinois – 6-3, 196 – Allison was a late addition to the roster following an impressive showing at the East-West Shrine Game. He was impressive during practice and great during the game. While he lacks top-end speed, Allison has good size and a complete skill set. He runs good routes, can block downfield and uses his big and reliable hands to catch the ball away from his body. He had a great game with six catches for 68 yards and two touchdowns.
Austin Blythe, OL, Iowa, 6-2, 290 – The Iowa center started 49 games, including 45 straight, and is a versatile interior lineman. He has a good strong base with a low center of gravity and knows how to use that leverage and superior strength to drive defensive linemen off the line. He bends well to keep his balance against power rushers. He's better in tight quarters, but struggles with speed when in wide splits. He also had some issues with high snaps when the quarterback was in the shotgun.
Evan Boehm, C, Missouri – 6-2, 309 – Boehm is another smart, experienced center with solid technique. He pulls well in misdirection run plays and can get to the second level. But he struggles against speed pass rushers. He's tough, but has short arms and doesn't slide well.
Jacoby Brissett, QB, North Carolina State – 6-3, 236 – Brissett's athleticism, strong arm and size created some buzz in Mobile. His footwork is smooth and he's a fluid athlete who stands tall in the pocket, but his accuracy needs work. Too often he led his receivers out of bounds or into trouble, or just flat-out missed them. He also has to speed up his delivery. He has a good understanding of the position and does a good job of looking off safeties to open seam routes. He can make plays with his feet, but he is a throw-first quarterback.
Aaron Burbridge, WR, Michigan State – 6-1, 208 – Burbridge was the Big Ten Receiver of the Year after catching 85 passes for 1,258 yards and seven touchdowns. He's got good awareness and hands. He played a great game in Mobile, including a 29-yard touchdown Hail Mary catch in front of three defenders on the final play. While he isn't quick off the ball and lacks great long speed, Burbridge is a polished route runner with incredible body control.
Le'Raven Clark, OT, Texas Tech – 6-6, 307 – Clark has great length and plays with a nasty streak, but struggles with footwork. Bull rushes give him fits and he consistently got beat inside in Mobile. Clark was a three-time All-Big 12 selection and has plenty of experience with 51 career starts for the Red Raiders. He started his career at guard, but started the last two seasons at left tackle, where he was solid. He's got patience and quickness for the position, and a nice kick slide, but he needs to use his hands better to punch pass rushers away and keep control of his opponent. He can also improve as a run blocker, rarely playing in a three-point stance, and has to develop a better understanding of angles and running lanes.
Jake Coker, QB, Alabama – 6-5, 236 – Coker isn't considered a great athlete, but he actually moves better than expected. He showed some of his ability to run during the national championship game. Coker threw for 3,110, 21 and eight interceptions last season, rushing for two more scores. He was just a one-year starter, but has some upside because of his physical traits. He was inconsistent in Mobile and needs to see the field and anticipate throws better. He telegraphed his passes during the Senior Bowl – a slow delivery didn't help – and wasn't very accurate in the game, going 3 of 8 for 23 yards.
Joe Dahl, OL, Washington State – 6-3, 310 – Dahl does a lot of things well. He's instinctive, uses his hands well, is technically sound and a solid run blocker who seals the hole with a strong push. He adapted well from pass-heavy spread offense to the pro-style system used in Mobile. Dahl was a three-year starter, both at left guard and left tackle. He's got starter potential, most likely inside because of his athletic limitations. He has sluggish, heavy feet at times and his arms aren't what NFL teams want at tackle.
Kenneth Dixon, RB, Louisiana Tech – 5-10, 213 – Dixon was highly productive for the Bulldogs and briefly held the NCAA record for total touchdowns with 87. Despite being a touchdown machine, Dixon has excellent hands out of the backfield and a good burst through the hole. He's a tough, elusive downhill runner who moves well in the open field and can be an every-down back. He's had knee and ankle injuries and his physical running style does lead to durability concerns. He's not that great of a pass blocker and did fumble quite a bit in college.
Kenyan Drake, RB, Alabama – 6-0, 210 – Drake is an explosive runner with versatility. He was known as the "Swiss Army knife" at Alabama and had a good week of practice in Mobile. He needs to develop as a pass blocker, but is a good receiver out of the backfield and a north-south runner who doesn't dance and runs hard with good speed. He can also play special teams and should be on an opening day roster next fall.
Spencer Drango, OT, Baylor – 6-6, 310 – Going against the likes of Shawn Oakman has made him adept at stopping athletic pass rushers who will try to use speed and spin moves to penetrate the pocket. Drango uses his hands well to quell that rush. With 48 straight starts, he's a durable and intelligent player who will probably be a right tackle in the NFL. Coming from a spread system in college might take some adjusting and a back injury in 2013 is of some concern.
Jeff Driskel, QB, Louisiana Tech – 6-4, 230 – The former Florida QB went out on a high note with 457 yards and three touchdowns in the New Orleans Bowl win over Arkansas State. He finished his college career with 4,032 passing yards with 27 touchdowns and eight interceptions last season. Driskel has a strong arm and led a 99-yard drive in the two-minute drill and ended the Senior Bowl with a 29-yard Hail Mary touchdown pass. While he does have a cannon for an arm, he's inconsistent with ball placement. He should go early on day three of the draft, but might sneak into the third round if he has a good combine performance.
Josh Garnett, OL, Stanford – 6-5, 321 – The 2015 Outland Trophy winner is strong with a technically sound base. He doesn't easily get beaten with spin moves because of his footwork, which also keeps him balanced against power rushers. Garnett uses his hands well to keep attempted bull rushes at bay. He's capable of playing tackle or guard, despite some athletic limitations, but he's got first-round potential.
Graham Glasgow, C, Michigan 6-6, 306 – Glasgow is solid in all aspects of his game and could be a starter for many years in the NFL. Because he showed so well in Mobile, he's moving his way up draft boards. He's a tough lineman who can also play either guard spot. He's got some heavy feet, but is mobile enough to get to his assignment when pulling. There are some off-field concerns because of a DUI arrest in 2014.
Aaron Green, RB, TCU – 5-11, 205 – Green runs hard, but is a terribly lazy route runner who needs to work on his receiving skills. He tends to give up on plays in which he's not involved. Following a terrible week of practice, he actually played well in the game and displayed nice cutback ability and vision. He ran for 34 yards on five carries, including a 25-yard touchdown. Green is quick and elusive in the open field. The former Nebraska player ran for 1,272 yards and 11 scores last season.
Darion Griswold, TE, Arkansas State – 6-5, 264 – After a solid week at the East-West Shrine Game, he earned an invite to the Senior Bowl. Griswold is a dependable receiver, but needs to work on his blocking. But in today's NFL that uses both receiving and blocking tight ends, Griswold can be used in passing situations. He's big and athletic and his basketball background helps him go up to catch the ball at its highest point.
Glenn Gronkowski, TE, Kansas State – 6-2, 238 – The youngest of the five Gronkowski brothers, Glenn had a solid week in Mobile, where his brothers – including Patriots tight end Rob Gronkowski – watched him play in the game. "Little Gronk" is strong and has great hands out of the backfield. He's a good blocker and could play fullback, tight end or H-back in the NFL. Because of his football pedigree and intelligence, he will get drafted and be in a camp next summer.
Joe Haeg, OL, North Dakota State 6-6, 310 – Haeg probably doesn't have the athleticism to play tackle at the next level. He's a solid run blocker, but struggles with his footwork against athletic rushers. A move inside could give him some protection as a pass blocker.
Kevin Hogan, QB, Stanford – 6-4, 218 – Hogan can scramble and make plays with his legs. He went 36-10 record as a starter at Stanford, but does not have NFL ability. He's got a slow, quirky, low delivery that causes him to often throw the ball high. He struggles with accuracy because he doesn't set his feet and he lacks elite arm strength.
Cody Kessler, QB, USC – 6-1, 224 – Kessler, on the other hand, can be an NFL QB. He's very accurate with an acute understanding of route concepts. Kessler threw 88 career touchdowns thanks to a quick release and an ability to throw on the run. While he's not terribly athletic, he does have some escapability, but what he does well is keep his eyes downfield when he climbs the pocket. Kessler understands how to play quarterback and his only real limitations as a thrower is throwing a more accurate deep ball.
Henry Krieger-Coble, TE, Iowa – 6-3, 248 – Krieger-Coble had a nice week of practice that highlighted his athleticism. He's a solid run blocker who pulls well and has excellent hands. He made an incredible one-handed grab during the week's final practice. He's a very good route runner, which helps make up for a lack of speed.
Jay Lee, WR, Baylor – 6-1, 214 – Lee is a good route runner with excellent hands who isn't afraid to go across the middle. He's got long arms to go with a desirable height/weight/speed combination and also blocks well downfield. There are questions on how well he can get off press coverage, but could be productive in the slot. He didn't catch a lot of passes over his Baylor career – 101 – but those went for 1,700 yards and 15 touchdowns because of his YAC ability.
Nick Martin, OL, Notre Dame – 6-4, 301 – A tough and versatile interior lineman, Martin has the potential for a long NFL career. He's the brother of Cowboys Pro Bowler Zack Martin and, like his brother, has starter ability. He's a good run blocker, but his snap-to-setup needs to be quicker. Against powerful players, Martin can be a bit stiff and has trouble redirecting rushers. He's smart with a lot of experience, but did have a season-ending knee injury in 2013.
K.J. Maye, WR, Minnesota – 5-8, 194 – Maye had a good week in Mobile showing off his nice hands and proficient route running. After catching just 34 passes in his first three seasons at Minnesota, Maye's numbers exploded last year with 73 receptions for 773 yards and five touchdowns. His two best games were against Nebraska – 11 catches for 94 yards with a rushing touchdown – and Ohio State – 10 receptions for 116 yards and a touchdown. He's small, but it a high-motor, competitive player who has good quickness but does lack elite long speed. Despite his stature, Maye is strong and could find value as a fifth receiver and special teams player.
Braxton Miller, WR, Ohio State – 6-1, 204 – Miller has seamlessly made the transition from quarterback to receiver. The former Buckeyes QB understands route concepts, is an excellent, competitive athlete who has developed into a solid route runner. He's got quickness, really good hands, can cut on a dime and is no longer really considered a project at receiver. Miller is also a selfless, team-first player who can be dangerous on special teams.
Malcolm Mitchell, WR, Georgia – 5-11, 194 – Teams will be impressed by Mitchell off-the-field persona in addition to his solid play on the field. He's a high-character player who authored a children's book. He had a good week of practice in Mobile. Mitchell is an excellent route runner who is versatile and catches the ball with his hands instead of cradling it into his body. The detractor on Mitchell is a history of knee injuries that has limited his speed.
Paul McRoberts, WR, SE Missouri State – 6-1, 202 – The SEMO receiver earned an invite to the Senior Bowl after an outstanding week at the East-West Shrine game. McRoberts is one of this year's small-school sleepers. He's an adept route runner who will go over the middle and showed an ability to catch the ball in traffic. He has excellent speed, instincts and hands. He caught 76 passes for 940 yards and nine touchdowns last season to go with 14 punt returns for 162 yards and one touchdown on a 69-yard punt return. He also returned four kick returns for 78 yards. He's got the height/weight/speed combination teams want and his experience as a returner will likely land him a roster spot next fall.
Chris Moore, WR, Cincinnati 6-0, 203 – Moore is a smooth athlete with good speed and the ability to stretch the field, but his hands are questionable with nine drops over the last two seasons. He dropped multiple passes during Senior Bowl week and in the game. Moore's focus doesn't always seem to be there and he has trouble getting off press coverage or making defenders miss in the open field. His route tree is limited, but teams will take a gamble on him because of his speed and size.
Kyle Murphy, OT, Stanford, 6-7, 301 – A solid, technically sound pass blocker, Murphy has good initial quickness, but isn't a great athlete. He can play either tackle spot, most likely on the right side in the NFL, but teams may want to bump him inside. He sometimes gets off-balance when changing direction. Instead of sliding his feet, Murphy tends to use his length and strength to keep pass rushers away but gets beaten by speed rushers.
Jordan Payton, WR, UCLA, 6-1, 212 – Payton has excellent footwork and awareness along the sideline. That doesn't mean he's a great route runner though. Payton is not fluid in his breaks and, instead looks too robotic. Payton doesn't have great speed and struggled to generate much separation during the Senior Bowl practices. Payton caught 201 passes for 2,702 yards 14 yards, including 78 receptions for 1,106 yards five scores last season. He is a good blocker and can be a solid special teams player, though he did not return kicks at UCLA.
Charone Peake, WR, Clemson – 6-3, 215 – Peake is big and strong with the ability to break tackles in the open field. Peake has the potential to follow in the footsteps of other Clemson receivers like DeAndre Hopkins, Martavis Bryant and Sammy Watkins. Injuries limited him at Clemson and he still needs to develop into a complete receiver. He's not a great route runner, but has the height/weight/speed combination teams love.
Dak Prescott, QB, Mississippi State – 6-2, 226 – Prescott impressed coaches in Mobile with his natural leadership and got off to a good start during the week of practice. He's athletic and has a strong arm, but he isn't that accurate. Prescott tends to force throws instead of throwing to the open receiver. But he does move well in the pocket, is adept at running a two-minute drill and the two-time, first-team All-SEC quarterback has intangibles that are off the chart.
Sterling Shepard, WR, Oklahoma, 5-10, 191 – Shepard is fast and tough and put up big numbers for the Sooners. He was a first-team, All-Big 12 selection last season after catching 86 passes for 1,288 yards and 11 touchdowns. He finished his Oklahoma career with 233 receptions for 3,482 yards and 26 scores. He has added value as a punt returner with a quick first step. Because of a lack of strength, Shepard struggles against press coverage as corners can direct him and throw off the timing of his route. But once he gets his release, he is a very good route runner who can be a very difficult matchup one-on-one.
Jason Spriggs, OT, Indiana – 6-7, 305 – Spriggs had one of the best weeks of all the linemen in Mobile. He was consistent all week and definitely boosted his stock by impressing coaches and scouts during practice. The four-year starter has excellent length and reach and is technically sound. He can set his feet better against bull rushes, but overall, proved he has NFL ability.
John Theus, OL, Georgia – 6-6, 317 – Theus is an inconsistent run blocker who struggles against athletic pass rushers. A move inside could help to guard could help. Theus had a frustrating week of practice in Mobile, but he does get to the second level well in the run game. He is a decent athlete and smart player who was a first-team All-SEC selection last season.
Sebastian Tretola, OG, Arkansas – 6-4, 330 – Tretola is great in a phone booth, but doesn't handle speed rushes well. When he can use his hands effectively, he can keep rushers at bay, but doesn't react well off the snap. Bull rushers can shove him into the backfield. He is a physical run blocker, but there are question marks about his work ethic.
Soma Vainuku, RB, Southern Cal – 5-11, 250 – A two-time All-Pac 12 selection, Vainuku is big and strong and a very good blocker. He does have an issue with dropped passes out of the backfield and went two full seasons at USC without a reception. He is an unselfish player who can be a special teams ace at the next level. While fullback spots are dwindling in the NFL, Vainuku might be able to earn a roster spot because of his special teams ability.
Nick Vannett, TE, Ohio State – 6-5, 260 – Vannett is a solid route runner who catches the ball well and is a pretty good blocker. While not a great athlete, Vannett is a good all-around tight end. He showed well in Mobile, and solidified himself as the top senior tight end in the draft class. He's got great size, but may have to develop a bit of a nasty streak to unleash his potential.
Dan Vitale, FB, Northwestern – 6-0, 235 – Vitale might be the best fullback in the draft class. He's a solid blocker with very good hands out of the backfield. Truly a run blocker, Vitale had just six career carries for 29 yards at Northwestern. He was a four-year starter and could be used a multitude of ways in the NFL – fullback, H-back or tight end, and on special teams.
DeAndre Washington, RB, Texas Tech – 5-7, 199 – Washington has an explosive burst with good quickness and a shiftiness to make defenders miss in space. He's a strong runner who rarely goes down on initial contact. He can struggle in pass protection, but takes coaching well. He doesn't have the body type to carry the full workload, but he can be a nice third-down back.
Carson Wentz, QB, North Dakota State – 6-5, 233 – Wentz impressed all week in Mobile and put himself in a position to possibly be the first quarterback drafted. He's got a big arm and is a proven winner – going 20-3 as a starter to win a pair of national championship. A fifth-year senior, Wentz was part of a program that won five straight FCS national titles. Wentz is talented and smart with excellent athleticism. He's also an unselfish player who accepted a move to wide receiver while dealing with a shoulder injury as a junior. A former baseball player, Wentz is a technically sound thrower and is accurate on the run. He's got a good pocket presence and knows how to look off defenders. He was described by those who saw him in person as the "real deal." Wentz should be the first-ever NDSU player selected in the first round after throwing for 5,115 yards with 45 touchdowns and 14 interceptions while competing better than 64 percent of his passes with over 1,000 rushing yards and 13 scores. While he did fumble a snap from under center, Wentz picked up the pro-style offense in Mobile quickly – even correcting Cowboys offensive coordinator Scott Linehan on route assignments.
Cody Whitehair, OL, Kansas State – 6-4, 300 – A left tackle at Kansas State, where he started 51 games, Whitehair projects as a guard in the NFL. He's got all the tools to succeed inside and rarely got beat in one-on-one situations. He's strong, bends well, and showed the same consistency in Mobile that earned him All-Big 12 honors in each of his four years as a starter.
Bryce Williams, TE, East Carolina – 6-5, 258 – Williams was one of the biggest disappointments in Mobile after he was a first-team All-American Athletic Conference. Built like a basketball power forward, Williams is a very good athlete and was one of ECU's most reliable targets. He caught 96 passes for 1,045 yards and 13 scores over his ECU career. But at the Senior Bowl, he consistently dropped passes, wasn't impressive at all while running routes and didn't use his size or athleticism to create any separation. He is an underrated blocker, but if he doesn't impress at the combine, Williams could go from a mid-round prospect to somebody who might go undrafted.
Jonathan Williams, RB, Arkansas – 5-10, 219 – Williams has good size and is a very strong runner. He's a selfless player who missed all of 2015 with a foot injury. He ran for 1,190 yards and 12 touchdowns as a junior. He's got shifty feet and a good burst and showed pretty well in Mobile.
DEFENSE
James Bradberry, CB, Samford – 6-1, 209 – Bradberry breaks on the ball well and has very good hip movement. He's got good size and will come up to lay a big hit. He's not that great in man coverage, but plays very well as a zone corner. He's got a good understanding of how to play the position and using the sideline as an ally.
Kentrell Brothers, LB, Missouri – 6-1, 235 – Brothers is a sure tackler with good vision who fills well. He led the nation with 152 tackles to earn All-SEC honors. He's a bit undersized, but has great instincts to put himself in position to make a play. He's also a pretty good athlete and is very good in coverage. He can get beaten in man-to-man coverage, though, because he doesn't have great speed.
Vernon Butler, DT, Louisiana Tech – 6-3, 325 – Butler is a gifted athlete for his size with great lateral quickness, and had an impressive week of practice in Mobile. Dominant all week, the first-time All-Conference USA selection was unblockable at times and looked very much like a first-round talent. He is sometimes too aggressive and has some wasted movement that causes him to get into a stalemate at the line.
Maurice Canady, CB, Virginia – 6-1, 191 – Canady has good size and length and breaks well on the ball. He's been a ballhawk for the Cavaliers, creating 10 turnovers and five interceptions in 33 starts. He also experience as a punt returner, something that will make him more valuable to NFL teams. He does a good job of playing smart, but could probably stand to be a little more physical at the line of scrimmage. He's not afraid to come up and make a tackle and is pretty solid in the open field.
Jeremy Cash, S, Duke – 6-0, 212 – Cash was a tackling machine at Duke with three straight 100-tackle seasons. He's a natural leader who is smart and instinctive but doesn't have great ball skills. He is versatile and can be used in nickel situations as a linebacker or even as a corner despite his lack of ideal coverage skills. He's definitely better against the run than he is the pass, but does always see the field well and had a wrist injury in December.
Sean Davis, DB, Maryland – 6-1, 202 – Davis is a solid tackler who forced five fumbles last year. He's versatile enough to play corner or safety and is decent – not great – in coverage. Davis is very intelligent and speaks three languages. The All-Big Ten selection had 88 tackles with three interceptions last season. He's a physically impressive player but lacks long speed and quickness off the snap.
Sheldon Day, DT, Notre Dame – 6-0, 285 – Day lives in the backfield. He struggled with hand placement early in the week of practice in Mobile, but took the coaching well. He's strong and versatile enough to play up and down the line. The second-team All-American played great in the Senior Bowl with an excellent burst and explosion off the snap. He's a bit small to play inside, but may not be fast enough to play end. But he's got great lateral quickness and uses his hands well to shed single blocks.
K.J. Dillon, S, West Virginia – 6-0, 208 – Dillon is a very good special teams player and blocked a field goal and made two blocks on a long return in the game. He tackles well and is sound in the open field. He tends to backpedal too much in coverage and has stiff hips when he tries to turn and run with a receiver. He doesn't have great speed, but does have a good reactive burst – especially to receivers coming over the middle.
Kyler Fackrell, OLB, Utah State – 6-4, 250 – Fackrell has a good pass rush ability and great length. He rebounded from a season-ending knee injury in 2014 to post 82 tackles with 15 for loss, four sacks, two forced fumbles and five recovered to earn an All-Mountain West first-team selection. He's a 24-year-old who will celebrate a birthday before the NFL season begins, but teams love his maturity. The three-year starter was a bit inconsistent for the Aggies and is a bit lanky with a technique that needs to be sharpened. He's athletic enough to play in coverage and could be long-time starter as an outside linebacker in a 3-4 system.
Jason Fanaika, DE, Utah – 6-2, 270 – Fanaika is a strong, fluid athlete and uses his length well as a gifted pass rusher with a sweet swim move. He's got good instincts and plays the run well. He's not the fleetest of foot and there are some work ethic questions. He sometimes struggles to get a good burst off the snap and misses a lot of tackles.
Jake Ganus, LB, Georgia – 6-2, 233 – Ganus is a pretty good pass rusher and solid in coverage. Ganus can do it all. He sees the field well and knows how to attack the gap in the ground game. He transferred to Georgia following the elimination of the UAB football program. He played just one season at Georgia, but was the UAB tackles leader two years straight.
Deiondre Hall, CB, Northern Iowa, 6-1, 190 – Hall has good length with especially long arms, and held his own against more heralded players from larger programs. He has to tackle better in the open field, but he's not intimidated when taking on bigger players. He doesn't flip his hips that well and his recovery speed is average. Hall is a ballhawk, though, with six interceptions last season.
Matt Ioannidis, DT, Temple – 6-3, 303 – Ioannidis is a strong and relentless pass rusher with a good burst. He's explosive off the ball and opened some eyes with a great week of practice. He's a high-motor player who was a two-time All-American Athletic Conference selection. He's a bit of a stiff athlete and not the strongest at the point of attack, but has been consistently solid and should provide depth in a defensive line rotation.
Jordan Jenkins, LB, Georgia – 6-2, 257 – Jenkins has first-round ability, but groin and hip injuries last year may bump him to the second day. Jenkins was the three-year starter and can play in a 3-4 or a 4-3. Considered a tweener player, Jenkins uses his hands well and has a quick burst, but he's not that great dropping in coverage.
Austin Johnson, DT, Penn State – 6-4, 323 – Johnson had a year of eligibility remaining, but was at the Senior Bowl because he already earned his degree. He's not that quick off the snap, but got better in each of his three collegiate seasons. He had 78 tackles, including 15 for loss and 6.5 sacks last season. He's a bit run stuffer with the ability to beat double-teams while clogging up the middle. He's better against the run than the pass, but sometimes doesn't extend his arms to snare a ball carrier as he runs by him.
Cyrus Jones, CB, Alabama – 5-10, 196 – Jones is a physical player who probably uses his hands too much, and could get flagged often in the NFL if he doesn't clean that up. He doesn't handle it well when receivers are physical with him. He did have a very good week in Mobile and can play special teams. He'd also be solid as a nickel corner and may have boosted his stock to go from a mid-round pick to the second round.
Deion Jones, LB, LSU – 6-1, 227 – Undersized for a linebacker and with just one year as a starter at LSU, Jones had a nice week of practice. He pursues well and plays sideline to sideline, helping his stock by showing pretty good coverage skills and special teams play. Jones needs to be sedulous with his hands to keep linemen off of him. He doesn't have great instincts, causing him to attack downhill late, but he does have good acceleration to the ball. In his one season as a full-time starter at LSU, Jones recorded 88 total tackles, 12.5 for loss, with five sacks, three passes defensed and two interceptions
Jonathan Jones, CB, Auburn – 5-8, 181 – Jones is a confident player with a good break on the ball and is solid in coverage in either a man or zone defense. He had an excellent week in Mobile, but is size is definitely a detractor. He's got good instincts and impressive speed, but also a history of injuries that create durability concerns.
Bronson Kaufusi, DE, BYU – 6-7, 281 – Kaufusi has an impressive week of practice, showing his athleticism and burst. He packed on some muscle since the end of the college season and is now stronger against the run. He is a gifted pass rusher whose size and athleticism would allow him to play in either a 3-4 or a 4-3 scheme. If he can continue to get stronger, he can become a complete end.
Miles Killebrew, S, Southern Utah – 6-3, 230 – Killebrew is big and a big hitter. That's a good thing and a bad thing. When Killebrew hits people, they usually get knocked backwards, but he needs to work on tackling fundamentals because rarely wraps up when laying those big hits. He has good speed, but just average instincts and his reaction time needs to get faster. Because of his size and 4.4 speed, he's a solid mid-round prospect even though his fundamentals need to be honed.
Jordan Lucas, DB, Penn State – 6-0, 202 – Lucas is pretty versatile in the defensive backfield. He had 24 starts at cornerback for the Nittany Lions, but will likely be used at safety in the NFL. Lucas is solid in coverage. He does have a history of shoulder injuries and could not finish his final collegiate season.
Blake Martinez, LB, Stanford – 6-1, 245 – Martinez is able to diagnose plays at the line well and is excellent against the run. He's smart with good instincts and is a high-motor player who will pursue through the whistle. A two-time All-Pac 12 selection and third-team All-American last year after making 141 tackles, Martinez is fundamentally sound. He isn't that fast and struggles in coverage, but he has added value as a special teams player.
Tyler Matakevich, LB, Temple – 6-1, 232 – One of the best linebackers in the draft, Matakevich was extremely productive in college. His extraordinary instincts and high football IQ make up for a lack of athleticism in coverage. He's a technically sound, solid tackler who is a tackling machine and is always all over the field. He will struggle in coverage against top-tier running backs and won't put up elite numbers at the combine. But, like former Wisconsin and San Francisco 49ers linebacker Chris Borland, Matakevich may not impress with the athletic measurable, but he definitely impresses as a football player.
Harlan Miller, CB, Southeastern Louisiana – 6-0, 180 – Miller opened some eyes with an impressive week of practice. He's got quick feet and excellent instincts that help him break on the ball well. He's a bit lean, but his length and speed helped make him an FCS All-American. He tends to peak into the backfield and play with his hands too much.
Jalen Mills, CB, LSU – 6-0, 194 – Mills has quick feet, can read routes and breaks well on the ball. He had a great week of practice and was solid in the game, showcasing his excellent ball skills and solid coverage ability. He's a bit lean and there is off-the-field baggage. He's athletic and fast, but that sometimes plays against him because he can get undisciplined and then rely on his physical skills to recover.
Antonio Morrison, LB, Florida – 6-1, 230 – Morrison has good coverage skills and ball instincts. He's smart against the run, is a solid tackler, and plays well on special teams. He's got small hands and is a bit undersized for an NFL linebacker, but he plays downhill. There are concerns about his durability after two knee surgeries, but Morrison finished his Florida career with 287 tackles, including 20 tackles for loss, three forced fumbles and an interception.
Eric Murray, CB, Minnesota – 5-10, 198 – Murray is a physical corner, who is sometimes too aggressive, and has the tendency to bite on double moves. He can still be a solid cover corner because he trusts what he sees and breaks well on the ball. He had an excellent week of practice and had long arms, but needs to use his hands less. He's got tight hips and may find in the NFL that he isn't quite as strong as his physical style would dictate.
Carl Nassib, DE, Penn State – 6-7, 273 – The former walk-on has developed into a solid player with flawless technique and a big upside. He used his natural length and quickness to collect 19.5 TFLs with 15.5 sacks and six forced fumbles last season. He's not particularly explosive off the snap, but has great instincts and, despite his height, is able to stay low and not let offensive linemen gain leverage.
Dadi Nicolas, DE, Virginia Tech – 6-3, 227 – Nicolas is best suited as a 3-4 OLB because of his edge-rush ability. He's too lean to be a 4-3 D-end, but he's a high-motor player with excellent quickness and get-off. He consistently provided quarterback pressure in Mobile, but had just 2.5 sacks last season.
Jared Norris, LB, Utah – 6-2, 240 – Norris has a good burst and showed an ability to beat double-teams and get penetration in the backfield. He had a nice week of practice in Mobile, and was a team leader at Utah. He's not a fluid athlete, but he's a solid tackler who was a two-time All-Pac 12 selection with over 200 tackles and 19.5 tackles for loss over the last two seasons.
Shawn Oakman, DE, Baylor – 6-7, 269 – A physical specimen with incredible athleticism and strength, Oakman needs to improve his technique and footwork. All too often, he winds up on the turf and was extremely inconsistent as a player. He disappeared at times during Baylor games, but he did get two sacks during the Senior Bowl.
Kevin Peterson, CB, Oklahoma State – 5-10, 173 – Peterson makes up for a lack of size with excellent instincts and recovery speed. He's extremely lean and doesn't have elite long speed. He's a smart player with good field awareness and a high football IQ. He understands how to read routes, but struggles against bigger receivers.
Reggie Ragland, LB, Alabama – 6-2, 252 – Ragland is an excellent pass rusher and superb athlete with an all-around skill set. He had a great week of practice in Mobile, dominating one-on-one drills. He also showed off his versatility in coverage and proved he can play all over the field whether it would be in a 3-4 or a 4-3 scheme. He also has the benefit of coming out of a pro-ready program and NFL teams will find a spot for him. Ragland has incredible timing on his blitzes, though he could tackle better against the run. But he still had 102 tackles, with 6.5 for loss, two forced fumbles and seven passes defensed.
Sheldon Rankins, DE, Louisville – 6-2, 304 – Rankins is explosive with an incredibly quick burst off the snap. He's an excellent one-gap rusher with first-round ability. Though he was unable to play in the Senior Bowl because of a knee injury, Rankins had an impressive week of practice. He uses his hands well and accumulated 111 tackles, 26.5 for loss, and 14 sacks over the last two seasons. His knee injury isn't serious and he should be fine at this week's NFL combine. Rankins was able to beat double teams in college and was tough to block in Mobile.
Jarran Reed, DT, Alabama – 6-4, 313 – Reed is surprisingly nimble, but his footwork could be improved. He's got a strong presence in the middle with the ability to be a dominating run stuffer. Reed is an explosive athlete off the ball who uses his hands well and, more importantly has fun while playing. He's a big-time penetrator with great pursuit and a high motor. As good as he is against the run, he's not a very good pass rusher because he relies solely on his strength to bull rush instead of using his giant hands to develop any kind of a pass-rush move.
Joe Schobert, OLB, Wisconsin – 6-1, 247 – Like Nassib, Schobert was a former walk-on who went on to earn All-Big Ten and All-American honors. The 2015 Jack Lambert Trophy winner had an incredibly productive season for the Badgers and their top-ranked scoring defense. Schobert proved in Mobile he can play well on special teams and had a long return of a blocked field goal. But at Wisconsin, Schobert lived in opposing teams' backfields with a nose for the ball. He had 9.5 sacks and 19.5 TFLs to go with 14 quarterback hurries, five forced fumbles and an interception. He's a high-motor player with excellent vision and a relentless pursuit despite a lack of elite speed.
Noah Spence, DE, Eastern Kentucky – 6-2, 254 – The former Ohio State player might have been the best player in Mobile. He was dominant all week, and that continued in the game with sack, tackle for loss and plenty of quarterback hurries. A bit undersized as a defensive end, probably best suited in a 4-3, but he gave offensive linemen fits during the week of practice in Mobile. After getting kicked out of Ohio State because of drug-related issues, Spence straightened out and was the Ohio Valley Conference Co-Defensive Player of the Year after tallying 11.5 sacks. It was just more of the same for Spence, who has incredible closing speed and was an All-Big Ten selection as a sophomore.
Eric Striker, LB, Oklahoma – 5-11, 228 – Striker is an instinctive linebacker who sees the field well and plays downhill. Striker had 67 tackles last season, but with 17.5 for loss, seven sacks, an interception and a forced fumble after posting 17 tackles for loss and nine sacks in 2014. He was versatile for the Sooners, being moved all over the field, and was a three-time All-Big 12 selection while starting 39 games. There are size limitations and Striker is not a sure tackler because, while technically sound, his lack of length and strength allows power runners to go through him.
Darian Thompson, S, Boise State – 6-1, 212 – Thompson has nice size and his ability to track the ball in the air garnered him 19 career interceptions. He breaks well on the ball and is an active player, but gets beat on double moves. He's a solid special teams player, but has to be more consistent as a tackler. He's undisciplined in the secondary and regularly allowed receivers to get behind him, even as the free safety.
Jihad Ward, DE, Illinois – 6-5, 296 – Ward has superb athleticism and put his swim moves on display during practices. A JuCo transfer to Illinois, Ward is a natural pass rusher, but can do a better job of getting his feet under him to maintain balance and leverage. He could develop into a complete end, but is NFL-ready as a pass rusher with great length.
Adolphus Washington, DT, Ohio State – 6-3, 297 – Washington is a player who steadily improved as his college career progressed. He is athletic with good pass rush ability and was pretty-much unblockable all week in Mobile. There are some off-field concerns and he was suspended for the Fiesta Bowl following an arrest for solicitation. On the field, Washington is consistent and a first-round talent, but will probably slip into the late second or third round, where he could be a steal.
Tavon Young, CB, Temple – 5-9, 181 – Young is small, but plays bigger than his size. He had a good week and solid game in Mobile. Young has good coverage skills because of his ability to read routes and break on the ball after he tracks it in the air. He tends to grab against bigger receivers and doesn't have great footwork. He does have added value as a return man.